Date: 6/07/2018 06:51:03
From: Bubblecar
ID: 1248989
Subject: Milky Way Collided with Cosmic Sausage Billions of Years Ago
It turns out that our galaxy looks the way it does today thanks to a run-in with something called the 'Gaia Sausage'.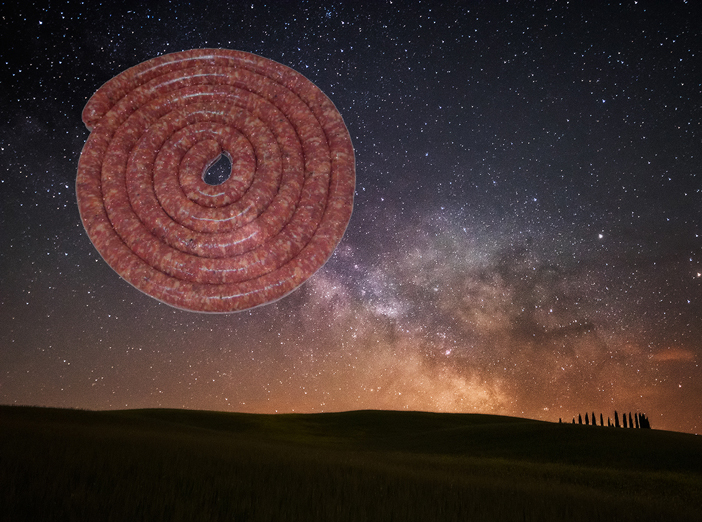 As greasy as space is, we're not talking cosmic processed foods here. Rather, astronomers have found signs that a small galaxy smashed into the Milky Way billions of years ago, leaving behind a mess of stars with some rather unusual orbits.
So, what makes this cosmic object a 'sausage'? Cambridge University astronomer Wyn Evans says it all came down to the paths of the stars following the impact.
"We plotted the velocities of the stars, and the sausage shape just jumped out at us," says Evans.
"These Sausage stars are what's left of the last major merger of the Milky Way."
If you squint and use your imagination, you can definitely see something sausage-shaped in the graph below.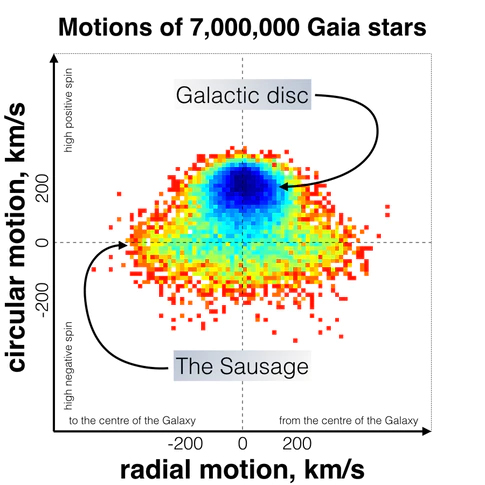 Collisions between galaxies aren't all that unusual, and the Milky Way has had its fair share of dust-ups with surrounding crowds of stars.
One small merger thought to have occurred just 100 million years ago left the galaxy "ringing like a bell" with huge ripples observed in our corner of the galaxy.
But this one wasn't just any puff of stars and dust. Additional analysis noticed it was accompanied by at least eight star clusters, meaning as far as small galaxies go it had to have been on the slightly chunky side of around 10 billion solar masses.
"While there have been many dwarf satellites falling onto the Milky Way over its life, this was the largest of them all," says Sergey Koposov of Carnegie Mellon University.
---